PLEASE NOTE: Prices are listed in USD, but you will be given the option to convert to your home currency upon check-out on PayPal. Also, while it's possible to shop and place your order via your mobile device, we recommend using a desktop computer to download and save your purchase(s). Each download link will be valid for only two (2) download attempts.
Wrapped In Your Love For Christmas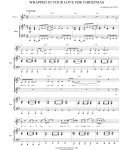 Uptempo pop Christmas duet. As recorded by Brynn Williams and Drew Seeley.

Listen

Updating…